The last four months have been a remarkable time of testing and trials for us here at St Andrew's Church & Academy.
$21,165.00
donated of
$40,000.00
goal
A series of repeated setbacks and disappointments pushed us far beyond any kind of comfort zone—yet it was between these rocks of difficulty and doubt that we have been blessed to see for ourselves with our own eyes what we've clung to by faith. And we can testify of the goodness of God working amidst our weakness and troubles!
We are thankful for so many faithful friends and brothers and sisters who have greatly encouraged us with prayers, help and support.
But the work is not over.
Fire refugees are now regrouping. We are ecovering from Covid. Dealing with the aftermath of the Dixie fire. Making the best of a less-than-ideal new school building. And beginning the six-month recertification of our Federal requirements to board international students.
These are daunting tasks under a relatively short timeline: we need to raise $40,000—and we are going to need your help to do it.
We are seeking emergency financial support right now to:
1. Continue the new school building remodel & transition.
2. Offer help to our parishioners and community.
3. Offset the considerable unexpected expense of the evacuation & move.
4. Help fund the international student recertification process.
Greetings Faithful Friends & Church Family Around the Country & World
We cannot begin to tell you how encouraging your prayers over these last few months have been! This has definitely been a trying ordeal. Yet we are thankful! Our little town of Chester, on the shores of Lake Almanor, survived the Dixie Fire without any major damage.
I'd like to apologize to all of you prayer warriors lack of communication after we returned to Chester from the fire evacuation. What follows below is the story in a timeline that details most of the trials of the year…including the  the blur of three weeks of evacuation, ten days of Covid, plus another week of exhaustion before moving from our old building, renovating and remodeling and then moving into our new building.
Moving Forward
Your prayers have meant so much to us as a community, and to me as an individual. I've heard from my various priest friends around the world as well as many who've reached out that I know less well, and even a few that I've never met. We as a community do ask for your continued prayer for St. Andrew's Church & Academy. Please pray that we can raise the funds needed to recover what we've spent on the move so far, as well as monies needed for helping the fire victims in our parish (four houses lost to our parishioners) and community, as well as our unexpected evacuation expenses. Please pray as well for the recertification process to proceed smoothly, and for the money necessary to complete that project. Thank you so much to a number of people that have already donated towards these causes! There is much positive ministry to be done in the area right now. Please pray that we at St. Andrew's will see these opportunities to bring and speak the love of Christ into our communities. Continuing in Prayer, Father Brian Foos+
Dixie Fire Advances on Chester — Evacuation Orders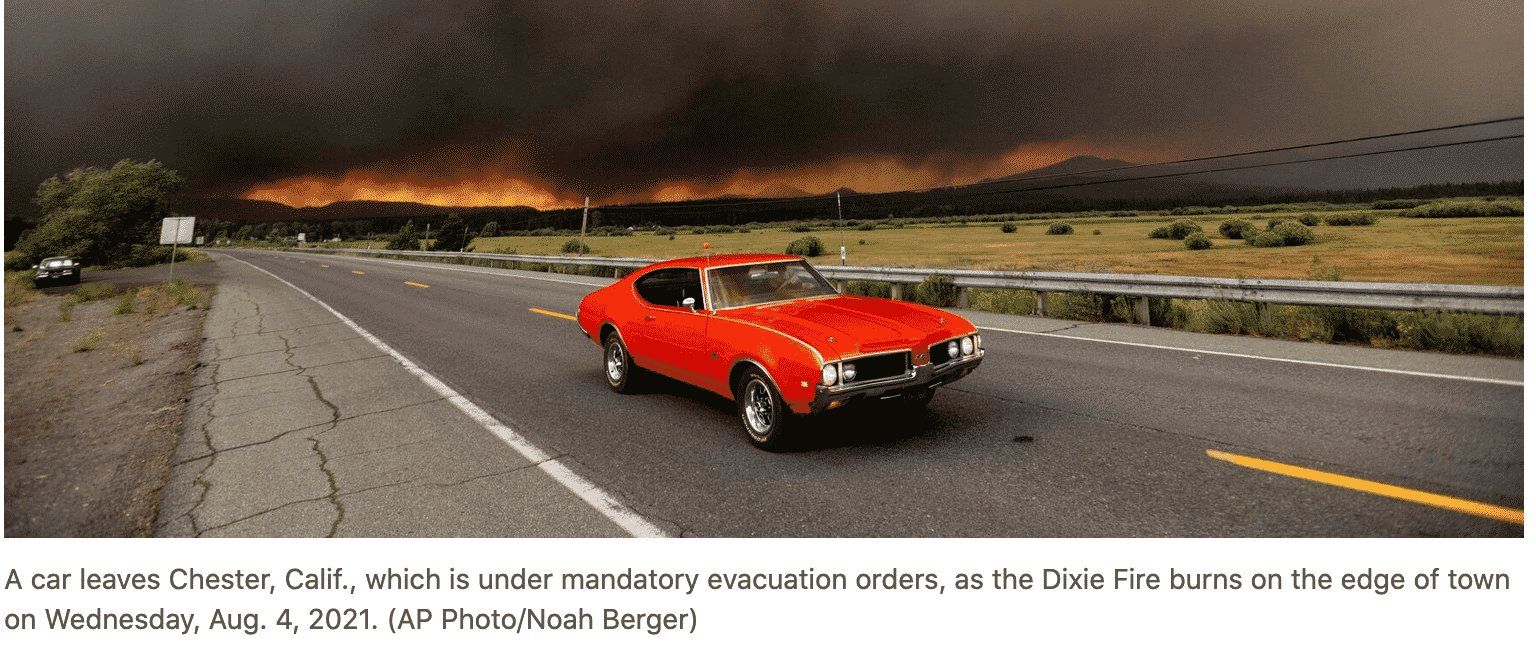 As the Dixie fire continued to move towards, and then began to surround Chester, evacuation orders were given for the entire town. My wife and I and our daughters retreated to the Central Coast during the first week of the evacuation order. I celebrated Eucharist services at Christ the King in San Luis Obispo during that week and tried to be useful despite the stress of the time. We then went north and eventually ended up with my family—a lot of them—staying at my dear aunt and uncle's house in Reno.
My wife and I then flew from Reno to Houston to drop our oldest daughter off at college. We were encouraged worshiping with Father Jason Grote and the parish of St. Matthias on that Sunday; my wife and I returned on Monday to Reno. To add to the difficulties, our new teaching family, Robert and Mikala Graham with their infant daughter made it to Reno with a full moving van somewhere in that time period. They had to extend the moving truck rental because of the emergency situation, and we eventually had to rent storage space in Reno and unload the truck temporarily as we waited together for the go-ahead to return to Chester.
Evacuation Uncertainties Sidenote
In the midst of the Dixie Fire difficulties, in the background another issue was looming. To briefly recount…we've been in our school building for a decade, and we rent it from the local fire department. This spring the fire department began attempts to force us out of the building. It actually started in the fall of 2020 with out-of-the blue talk of an upcoming rent increase. With varying numbers being discussed, including a possible doubling of rent—or even more—we knew we were in trouble. We then countered with an offer to purchase the property at a price above market-value, but that was refused. We tried to negotiate other options. We evacuated not knowing if we would be evicted or if the fire department would accept our offer to double the rent to remain in the building through August of 2022.
Dixie Fire—Sadness & Rejoicing
Yesterday, I said the same thing to everyone I spoke with…and that was a lot of people. "We are praying for a miracle. Please pray with us."
God gave us a miracle for St. Andrew's Church and Academy and our little town. Chester, on Lake Almanor, was completely surrounded by flames on Wednesday evening, August 4. The airport was on fire, but the Cal Fire firefighters and hundreds of others from all over the state and country standing shoulder to shoulder with them held the line at Airport Rd. all night long, not letting the fire advance. The fire roared up the other side of Main St., Hwy. 36, towards Collins Pine lumber mill, but the firefighters there held it off the multi-million dollar mill, only losing a large kiln, for drying the lumber.
I awoke yesterday, Thursday morning, ready to hear that Chester had burned to the ground, just like Greenville the day before, but rejoiced to hear that it was still standing—not a house lost. We were all devastated by the news and the images of Greenville, where St. Andrew's sister parish, Christ the Redeemer, had been for almost twenty years. The historic town, nestled in the north end of Indian Valley was completely destroyed. The market, the elementary and jr/sr high school still stood, as did the Dollar General store. As I understand it, most of the rest of the town is ashes.
Yesterday was the day of consistent prayer for Chester, where St. Andrew's Church & Academy are, and where the Vicarage is. Our parish prayed, our diocese prayed, our Church prayed. Thank you everyone for the prayer. We had another Red Flag day of high winds yesterday, which were to end in the evening—hopefully. The winds were expected to turn east during the day, which would have sent the fire directly into Chester. As I understand it, they stayed northward for almost the whole of the day, turning to the east only at the end, apparently when they were dying back. The miracle for which we had entreated God all day came true, and by yesterday night, Chester looks comparably safe.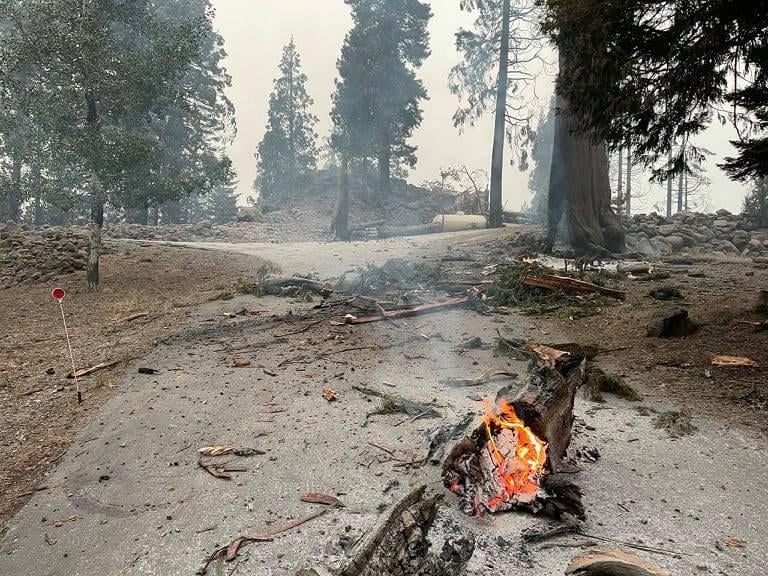 Alas, not everything turned out as positively as Chester. Please pray for all those that lost their houses and businesses throughout the area. St. Andrew's Church family lost four houses. Praise God, though, that so many people got out and that there is no loss of life at this point. There are, however, a small number of people unaccounted for because of this fire, please pray for their safety.
Another loss, however, was reported this morning. The little village of Canyon Dam, and the bottom corner of Lake Almanor, was utterly destroyed by the fire, leaving as I understand it, not a building standing.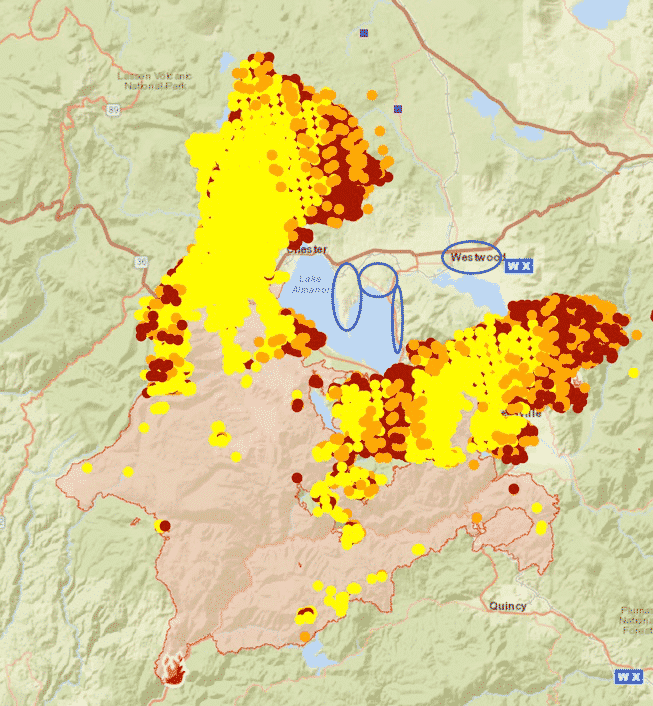 Please continue to pray for the communities of Hamilton Branch, the Peninsula, the East Shore of Lake Almanor, and Westwood, as they are rather directly threatened at this point.
Let us give thanks for God's protection of life and limb. Let us continue to pray, especially as people are allowed back into their communities and as life starts again. Please pray for the ministry of St. Andrew's Church & Academy. And right now, please pray for those threatened communities.
All families in the parish of St. Andrew's, save three, are evacuated. One family lives in Susanville and hosted a number of evacuees the first night. One family lives down the hill in Chico, and another in Paradise, having just completed the rebuild of their house destroyed in the Camp fire.
Dixie Fire—More Prayer Needed
The Dixie Fire has remained rather calm since last Thursday night, when by God's miraculous grace and the hard work of many firefighters, the town of Chester emerged unscathed from the flames. We need to pray for another miracle today and tonight. The fire went rather berserk from all the reports I heard last night.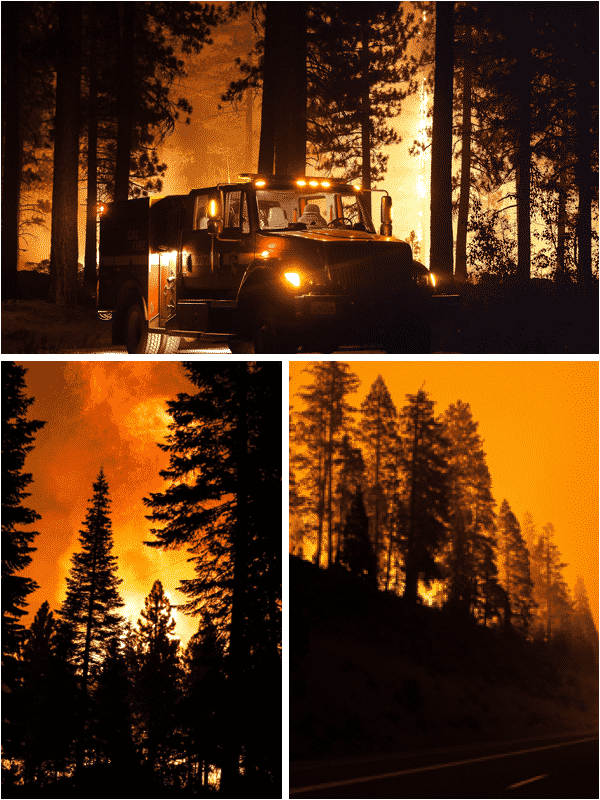 Thunderstorms caused erratic winds. They were to continue through today, though I haven't heard much reporting thus far today.
Last night, the fire took a hard push towards the town of Westwood, and must be from two to four miles from the old mill town. It also burned south towards the causeway on the other side of Chester and burned down the hillside of Johnson's Grade (about 50 minutes in) to the highway. The fire is right behind the Bailey Creek subdivision as well. Units were moved yesterday evening to defend structures in the Peninsula.
Parishioners of St. Andrew's live in these areas. Please pray for everyone and all structures. Again, please continue to pray for the communities of Hamilton Branch, the Peninsula, the East Shore of Lake Almanor, and Westwood, as they are in the path of this fire.
Again, let us continue to give thanks for God's protection of life and limb. There are no deaths from this fire at this time. There are missing people, though many dozens have been located. Please continue to pray, especially as people are allowed back into their communities and as life starts again. Please pray for the ministry of St. Andrew's Church & Academy. And right now, please pray for those threatened communities.
Back home, but sick….with Covid
My immediate family, minus my daughter in Houston, left that Friday to return to the Central Coast to help there again. We had planned this with the vestry at Christ the King, so we were committed for that weekend even though the evacuation orders for Chester/Lake Almanor had lifted the day before. On the way to Christ the King parish my daughter in Houston called…and said that she couldn't smell or taste anything. Argh—Covid!! We stopped and picked up a rapid test from a pharmacy, and sure enough, my wife and I were both positive!! We turned back and headed for home. The next day the fever started, but we were oh, so thankful to be home for the next couple of weeks while we were sick.
Evacuation to Covid to Eviction
We returned to an eviction notice. Out of the fire and into the frying pan. The decision was made for us—now we needed another building, and fast. Fortunately we already had a head start on moving out of the school building before the fire…just in case. And we had a handshake deal on a near-last resort option for a new building, again just in case. At this point it's all a blur—three weeks of evacuation, ten days of Covid, plus another week of exhaustion.
A "New" Building for the Academy
This weekend we began moving out of the school building, which we had planned on doing in August, if necessary…before the fire. We were blessed by wonderful help from friends of the parish and parishioners—thank you all so much!
Recertification Crisis
Finally, one more item has crossed my desk (actually email inbox) today. We spent three years and about $20,000 to become certified by the federal government to board international students. We received our certification in Fall of 2019. Of course, with Covid starting the next spring, we've not been able to receive any international students. Though the gates have opened just a bit at this time, it is still just a trickle of international students compared to before Covid. We have some interest and are working with a number of inquiries, and we are thankful for that. Unfortunately, the email announced that we must now recertify with the federal government. The academy has six months to complete the recertification, with deadlines for different parts of the process all the way through the next six months.
Out of the Old, Into the New
We turned over the keys from our old school to the fire department today. We are deep in the renovation/remodel and reconstruction of our new school building. Painting, plumbing, lighting, walls, shelves, storage…the list goes on.
We moved to a vacant former fly fishing shop/restaurant nearby. It is far from ideal: it gives us 60% less space, and is going to require time, money, energy, resources…and patience, to turn it into a school. We are thankful, however, for the Wesleyan Church that is making four classrooms available to rent less than a block away—and in both buildings we are are closer to St. Andrew's Church (which can provide two classrooms). In the end, we actually have more classroom space in our current situation than we did in our last. We even have arranged to use the county-owned Community Hall for fencing four days per week. God is good!
Ready Or Not…School Starts!